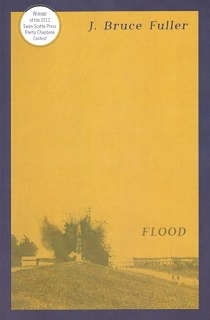 16.00
Flood
Read an excerpt: "On the Levee, Greenville,MS"
Praise for Flood
Two historic Louisiana floods form the content of this chapbook: the Great Flood of 1927, when the Mississippi River levee was dynamited at Caernarvon to save New Orleans but drown the rural poor, and Hurricane Katrina in 2005. At times J. Bruce Fuller's words have the force of millions of gallons of water smashing into everything in their path. Weaving words into enduring poems, he reminds us that against the destructive force of floodwater there is only "a woven mat of arms and legs / holding off the river," and that the stubborn human spirit is what prevails.
— Julie Kane
J. Bruce Fuller's new collection of poems composes its own language of place, a topophilia of south Louisiana, songs of water, levees, drowinging, and loss: "[prayers] for this washboard land." In the floods of 1927 and 2005, this lyric storyteller traces the recurrent arc of human folly and complicity across the span of a century, even as he recapitulates the love that keeps its inhabitants rooted in a shifting, unstable land. "The river is in all of us." Fuller's poems place us deep in the midst of it, muck, water, and love -- "a new landfill / in the old neighborhood" -- wind-torn, haunted, still ahold of the dreams.
— Marthe Reed/p>
About J. Bruce Fuller
J. Bruce Fuller is a Louisiana native. His chapbooks include Notes to a Husband (Imaginary Friend Press 2013), Lancelot (Lazy Moouse Press 2013), and 28 Blackbirds at the End of the World (Bandersnatch Books 2010). He is the co-editor of Vision/Verse 2009-2013: An Anthology of Poetry (Yellow Flag Press 2013). His poems have appeared at Crab Orchard Review, Harpur Palate, Pembroke Magazine, Yankee Pot Roast, The Louisiana Review, burntdistrict, The Lilliput Review, and The Dead Mule School of Southern Literature, among others. He has twice been nominated for Best of the Net. He received a MFA from McNeese State University and is a Ph.D assistant at the University of Louisiana-Lafayette.