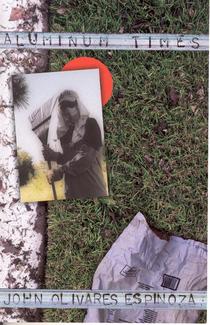 This title is out of print.
Aluminum Times
Read an excerpt: "Jail for Begging"
Praise for Aluminum Times
The times are perilous with poverty and not even the young own the safety of innocence. But in the midst of this harsh reality a poet is born with the sharp skill of observation, capturing the everyday details that reveal to him the world within the world. How fortunate we are to have John Oliveras Espinoza offer us an honest glimpse into the culture of struggle... the ache and pain that keep the body moving forward for the unheralded working class.
Espinoza's is a voice of genuine experience, opening our eyes not with pretense or sermon, but from the dignified standpoint of the people introduced to us in these haunting and eloquent poems.
— Rigoberto Gonzalez
About John Olivares Espinoza
Born in Indio, California in 1978, John Olivares Espinoza derives his poetic inspiration through his days working as a gardener with his family. He holds degrees in creative writing from the University of California at Riverside and Arizona State University in Tempe, where he was a Paul and Daisy Soros New American Fellow. He has published two chapbooks, Aluminum Times (Swan Scythe Press, 2002) and Gardeners of Eden (Chicano Chapbook Series, 2000). His full-length collection of poetry, The Date Fruit Elegies, is forthcoming from Bilingual Review Press. He teaches English literature at the National Hispanic University in San Jose, California.
Contact John Olivares Espinoza: joespinoza08@hotmail.com