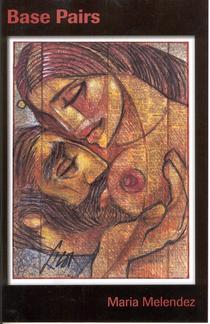 This title is out of print.
Base Pairs
Read an excerpt: "Recombinations"
Praise for Base Pairs
I don't know anyone writing like Maria Melendez, and keeping so many pearls in the air. Her work is not just new, it's weirdly instructive, subtly subversive and very bold.
— Gary Snyder
About Maria Melendez
Maria Melendez has published two collections of poetry: the chapbook Base Pairs (Swan Scythe Press, 2001) and How Long She'll Last in This World (University of Arizona Press, 2006), which received Honorable Mention at the 2007 International Latino Book Awards and was named a finalist for the 2007 PEN Center USA Literary Awards. Her essays and features appear in Altar, Orion Afield, and Isotope, and several of her essays on arts and activism have been broadcast as part of NPR's American Democracy Project. She currently serves as Associate Editor for Momotombo Press, an independent publisher producing works by emerging Latino writers, and she co-coordinates Poetas y Pintores: Artists Conversing with Verse, a traveling exhibition of contemporary Latino art and poetry. Her own poetry and fiction have appeared in such magazines as Barrow Street, International Quarterly, and Ecological Restoration, and she edited two anthologies of poetry by poet-teachers and K-12 students for California Poets in the Schools. She received her MA in English/Creative Writing from UC Davis in 2000. From 2000–2003 she was awarded grants from the California Arts Council in support of her work as writer-in-residence at the UC Davis Arboretum, where she taught environmental writing workshops for the public. In 2003, Saint Mary's College in Notre Dame, Indiana, appointed her Research Fellow at the Center for Women's InterCultural Leadership. She currently lives in Logan, Utah, where she teaches creative writing and American literature at Utah State University.
Contact Maria Melendez: melendezpoetry@gmail.com