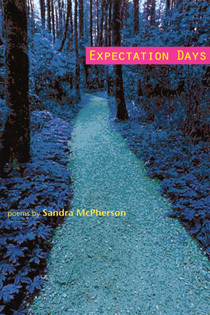 $18.00
Expectation Days
Read an excerpt: "Fox: A Memory of My Husband"
Praise for Expectation Days
Read Sandra McPherson's poems to experience the beautiful intellect of words placed in perfect positions of sound and sight. Read Expectation Days to encounter multiple ways to measure memory, subtle stratagems to release loss, the coaxing of magical phrases to retain the present, the play of wit and light to keep a balance. Read Sandra McPherson's delving and surfacing poetry carefully. Immersion. Don't miss a single word.
— Pattiann Rogers, author of Firekeeper
Sandra McPherson is one of the first poets in my generation to declare her individuality. She transposed the core — the freshness of seeing — into a sensibility that was younger, more raffish, more political. Maturity has only honed her fine diction and her emotional accuracy. Expectation Days finds her at the top of her form.
— Alan Williamson, author of The Pattern More Complicated
About Sandra McPherson
Sandra McPherson is a professor of English at the University of California, Davis. She has also taught at the University of Iowa Writers' Workshop, the Oregon Writers Workshop, and the University of California, Berkeley. She has won a Guggenheim fellowship and received an award in literature from the American Academy and Institute of Arts and Letters.
Contact Sandra McPherson: sandyjmc@mindspring.com