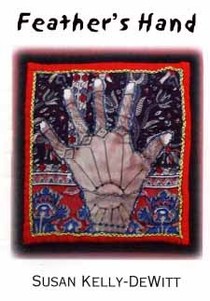 $9.95
Feather's Hand
Read an excerpt: "Painting Class"
Praise for Feather's Hand
Angels, saints and sages populate these very material, very quotidian, delightful poems, speaking in noisy inner voices the pained, humorous truths of our world.
— Marilyn Nelson
About Susan Kelly-DeWitt
Susan Kelly-DeWitt is the author of three chapbooks: A Camellia for Judy (Frith Press, 1998), Feather's Hand (Swan Scythe Press, 2000) and To A Small Moth (Poet's Corner Press, 2001).
Her work has been included in national anthologies such as Claiming the Spirit Within (Beacon Press, 1997) as well as regional collections such as Highway 99: A Literary Journey through California's Great Central Valley (Heyday Books, 1996) and The Sacramento Anthology: One Hundred Poems (Sacramento Poet Laureate Program, 2001). Awards include a Wallace Stegner Fellowship from Stanford University and the 1998 Chicago Literary Award.
Kelly-DeWitt has been Artistic Director for the Women's Wisdom Project, an arts program for homeless and low-income women. She is also an exhibiting visual artist.
Contact Susan Kelly-DeWitt: skellydewitt@gmail.com