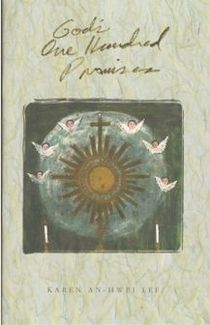 $9.95
God's One Hundred Promises
Read an excerpt: "Where My Names Are"
Praise for God's One Hundred Promises
Karen An-hwei Lee unscrolls a sequence of meditations by a woman's spirit as it moves from blindness through a felt world of tasks - cooking as a deed of the inner eye, fragrance as a spiritual air, even a wardrobe of mystical dresses and one orthopedic shoe. God's One Hundred Promises invites us into a beautiful consciousness and wraps us utterly in vision.
— Sandra McPherson, Swan Scythe Press
About Karen An-hwei Lee
Karen An-hwei Lee is the author of In Medias Res (Sarabande Books, 2004), winner of the Kathryn A. Morton Prize selected by Heather McHugh and the Norma Farber First Book Award selected by Cole Swensen. Recipient of an NEA Fellowship, she lives and teaches on the West Coast, where she is a novice harpist.