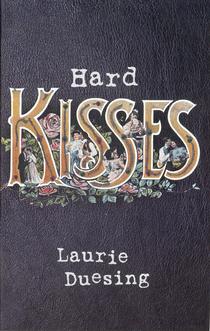 $9.95
This title is out of print.
Hard Kisses
Read an excerpt: "Mural"
Praise for Hard Kisses
Mortality, sickness and death — as active parts of her life — are frequent themes in these sensuous, often personal, poems. Duesing's heart is intelligent in its curiosity about the strivings and passions, glory and failure, of self and family, self and lovers. She sees the larger picture — the universal — through the individual, the particular, well focused and erotic moment, in all it's power and mystery. Duesing's instincts areas dependable as the sunrise.
— Clarence Major
About Laurie Duesing
Laurie Duesing was born in Milwaukee, Wisconsin. She spent her childhood in Viroqua, Wisconsin, and her adolescence in Fredonia, New York. She earned a BA from Harpur College (SUNY Binghamton), then moved in 1965 to the Bay Area in California, where she has lived ever since. She has an MFA in Poetry from Mills College, and a PhD in English Literature from UC Davis. Her work has appeared, along with that of Kim Addonizio and Dorianne Laux, in Three West Coast Women.
Contact Laurie Duesing: lduesing@solano.cc.ca.us