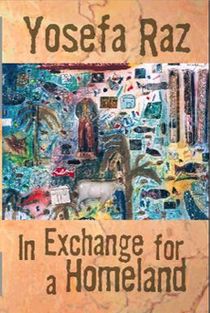 This title is out of print.
In Exchange for a Homeland
Read an excerpt: "Security Check at Allenby Bridge"
Praise for In Exchange for a Homeland
There's nothing like this. The acute double vision of a young Israeli woman, born to American parents, who strips her world to the bone to come to terms with it. Nothing escapes her sensory awareness. In poems that resonate with family pain, army outrage, social savvy, Yosefa Raz already reveals in her first collections of poems the strength and vision of an accomplished poet.
— Shirley Kaufman
Being Israeli-American, born and raised in Israel (and did her time in the army), would give Yosefa Raz instant credibility if she chose to do journalism. For Raz poetic mind and language take precedence however, and the unpredictable, tragic-comic, contradictory and unsettling personal truths that lie behind any world-scale socio-political conflict (and her own dilemma as a born-again citizen of North America) are the actual reach of her penetrating poems. This is courageous, vulnerable work, hard won, and illuminating.
— Gary Snyder
About Yosefa Raz
Yosefa Raz grew up in Jerusalem. She served in the IDF as a border guard and Hebrew teacher. She is a graduate of the Hebrew University and UC Davis Creative Writing Program, where she received the Celeste Turner Wright Poetry Prize. She currently teaches writing in Berkeley, California.
Contact Yosefa Raz: sefaraz@hotmail.com