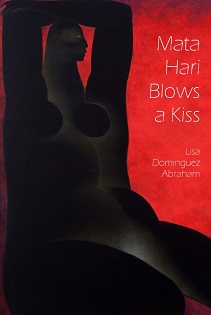 16.00
Mata Hari Blows a Kiss
Read an excerpt: "God Poured Voice"
Praise for Mata Hari Blows a Kiss
"A chapbook that weaves the strands of history with the complicated life in the now, these are poems that celebrate the many selves we contain within the body. Lush poems of lineage and what is passed down, along with poems of the heart's incessant needing, this is a poetry made of wonder and acceptance. Here are poems of magic and sheer will."
— Ada Limón
About Lisa Dominguez Abraham
Lisa Dominguez Abraham is a native Californian who teaches at Cosumnes River College in Sacramento. Her poems have appeared in publications such as The Southern Review and Poetry East and her full-lenght manuscript, Paper Maps is a semifinalist for the Miller Williams Poetry Prize.