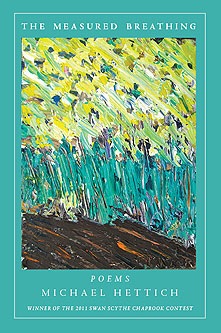 12.95
The Measured Breathing
Read an excerpt: "The Stranger"
Praise for The Measured Breathing
In The Measured Breathing, Michael Hettich inhabits with great panache and perfect pitch the interior landscape of consciousness, that world in which one encounters oneself beyond language. Hettich is a cartographer of that realm in which we try on other lives "until we can dress in our own skin again and vanish from ourselves for a while.
— Steve Kowit
Mystery, these poems tell us, continues to reside at the center of everything we think we know about existence. Splendidly baffling, imagistically engaging, and full of enjoyable surprises, The Measured Breathing explores that mystery. Hettich is an earthy fabulist here, yet the poems' ingenious transformations read as integral to survival. Yes, there is darkness, but it "is filled with streams and underground pools" of imagination.
— Susan Kelly-DeWitt
About Michael Hettich
Michael Hettich's previous books include A Small Boat (1990), Behind Our Memories (2004), Flock and Shadow: New and Selected Poems (2005) and Like Happiness (2010). His Swimmer Dreams won the 2004 Tales Prize and his chapbook entitled Many Loves won the 2007 Yellow Jacket Press Award. His poems have appeared widely in journals and anthologies, and he has collaborated with many artists and musicians, particularly with his son, Matthew Hettich, a computer musician based in Oakland, California. His website is michaelhettich.com.
Contact Michael Hettich: mhettich@mdc.edu