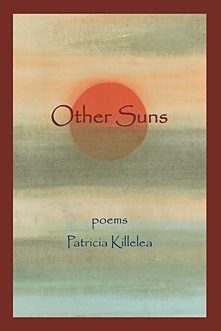 $12.95
Oscillating between alienation and wholeness, Other Suns carves a path between light and darkness, grief and continuance. From the edges of violence and doubt to ridiculous hope, these poems are firmly grounded in both the material world and spiritual risk. Killelea s clear lyrics speak to the ways in which land shapes perception, reminding us that natural space is, indeed, social space..
Other Suns
Read an excerpt: "True North"
Hear Patricia Killelea read a poem:
Praise for Other Suns
A marsh of all places - Patricia Killelea abides in this wild realm, writes of its character with respectful human engagement, and searches - by listening - to the flow, temper, song, and silence of its birds and water. In the saturated earth of Northern California's Montezuma Slough, where the poet lives deeply, Killelea is the sharpest spiritual eye. Her voice is important to all who would learn, from the very silt of Creation, how to navigate personal and ecological disasters with a bold and pure adherence to vision.
--Sandra McPherson
In Other Suns, the poet takes us, in her words, to 'this in-between place ... we peel back to," the heart's place of ' merging voices and life saying itself to life again.'" As a reader, I have received gratefully the fog in my throat and my mouth, indeed, tastes this river.
--Inés Hernández Āvila
About Patricia Killelea
Patricia Killelea is currently a doctoral student in Native American Studies at the University of California at Davis. Originally from the Bay Area, CA, she holds an M.A. in Creative Writing from UCD.
Contact Patricia Killelea: pakillela@gmail.com