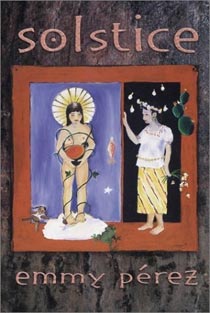 This second edition title is out of print.
Solstice
ISBN: 1-930454-31-6 2nd Edition
Read an excerpt: "Halladay Street"
Praise for Solstice
"Emmy Pérez's poems are elegantly political, never polemical. They discover the beauty in revolution without romanticizing its hardships. From the first moment I encountered her poems, I knew I was meeting a singular voice -- one that can find lyricism in struggle, dignity in injustice. Her voice sings of landscape and longing with deftness of image and diction. What a welcome debut."
—Allison Joseph.
"The new generation of Latina poets will be noted for the work of writers such as Emmy Pérez."
—Ray González
About Emmy P&eacuterez
Emmy P&eacuterez grew up in Santa Ana, California, and is a graduate of Columbia University. She has lived on the Texas-Mexico border, from El Paso to the Rio Grande Valley, for over a decade. Currently, she is a CantoMundo fellow, a member of the Macondo Writers' Workshop, and an Assistant Professor at the University of Texas-Pan American.
Contact Emmy P&eacuterez: lperez16@utpa.edu