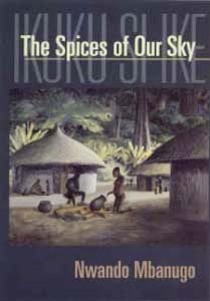 $14.00
This title is out of print.
The Spices of Our Sky
Read an excerpt: "Ogbuefi: The Chief"
Praise for The Spices of Our Sky
Nwando Mbanugo's poetry lights the way to a very distinctive way of life — a life of praise, ceremony, ritual, pain and joy — and by so doing opens up that world so that it stands for the essential ways we all live. She is a fine poet and this collection is a testament to her talent.
— Clarence Major
About Nwando Mbanugo
Nwando Mbanugo Was born in Oakland, California, but raised in Lagos, Nigeria. She attended a boarding school in Nigeria and later finished up her high schooling in Berkeley, California. Nwando was not exposed to poetry in English until her college years at the University of California, Davis, where she studied biochemistry and English.
Contact Nwando Mbanugo: numbanugo@ucdavis.edu