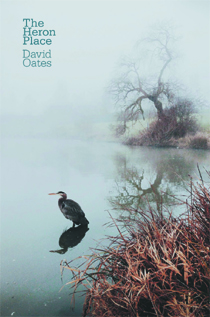 16.00
The Heron Place
Read an excerpt: "on the favored walk"
Praise for The Heron Place
"Like A.R. Ammon's "Corson's Inlet", David Oates in "The Heron Place" makes a walk in a wild place into an excursion into nature and mind, drawing a stunning sense of landscapes inner and outer, the wounds and failures and beauties that attend both realms. With brilliant turns and keen attention, he renders the heron place into a reverie. How are we to live with the history of anguish that lies in the land beneath our feet and in our own failures of love? We are to walk and see and say again a story strong enough to hold both love and failure, the saying itself an act of reconciliation. This sequence is a marvel to read.
— Alison Hawthorn Deming, author of Zoologies: On Animals and the Human Spirit
About David Oates
David Oates writes about nature and urban life from Portland, Oregon. His poetry has won awards (Badonnah Award from Bitterroot Poetry [New York], finalist for the Pablo Neruda Long Poem Award from Nimrod [Oklahoma]), and appeared in many places including Poetry/LA,Yellow Silk,ISLE,Fireweed,Windfall, and California Poetry Quarterly. His book Peace in Exile: Poems was published by Oyster River Press (Durham, N.H. and Santa Barbara, Calif.). He is also author of four books of nonfiction, including Paradise Wild: Reimagining American Nature (Oregon State University Press 2003). He was Kittredge Distinguished Visiting Writer at the University of Montana in 2012.
Currently his poetry and prose are being featured in the German literary magazine Wortschau, in English and German (September 2014 and January 2015). He won first place for essay from Northern Colorado Writers in August of 2014 and a Pushcart nomination. He leads the Wild Writers Seminars in Portland and teaches workshops and graduate classes in the United States and Europe.