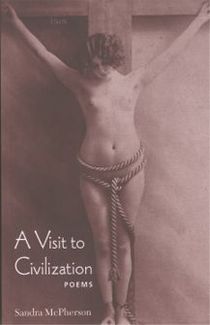 $13.00
A Visit to Civilization
Read an excerpt: "Given & Received"
Praise for A Visit to Civilization
Sandra McPherson reveals herself here as a master of the unexpected: just when you think you've 'got' her, she makes another daring feint, another bold move. These poems are strangely American, fascinatingly familiar, and the voice speaking them is absolutely assured.
— Adrienne Rich, author of Fox: Poems 1998–2000
....a wonderfully original work that draws on historic artifacts, journals and found objects to illustrate America in all its eccentricity and diversity. Despite this complex agenda, her lyric voice never falters; her clear eyes are firmly fixed on their objective.
— Carolyn Kizer, author of Yin, winner of the Pulitzer Prize for Poetry
About Sandra McPherson
Sandra McPherson is a professor of English at the University of California, Davis. She has also taught at the University of Iowa Writers' Workshop, the Oregon Writers Workshop, and the University of California, Berkeley. She has won a Guggenheim fellowship and received an award in literature from the American Academy and Institute of Arts and Letters.
Contact Sandra McPherson: sandyjmc@mindspring.com