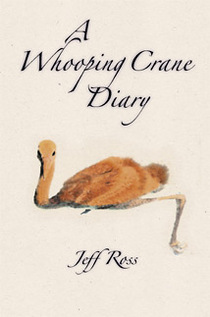 $14.00
This title is out of print.
A Whooping Crane Diary
Read an excerpt: "Servicing the Isolation Yards"
Praise for A Whooping Crane Diary
A Whooping Crane Diary is one remarkable book. In limpid prose, first-person journal entries written as a surrogate crane, classical Chinese verse, and haunting photographs, Jeff Ross takes us deep into the breast and wingfold of these birds of grace ancient and modern, their noble history, present plight, and heroic restoration. But the thrumming heart of this beautiful book lies in its main substance — the author's own poems of encounter with cranes. Thrilling, rich, and penetrating, Ross's poems carry the loft of the very cranes, the tragedy of their rarity, and the hope of recovery in our time. I don't know another book that so successfully blends the ethereal beauty and sweaty practice of conservation, unless it be A Sand County Almanac, hatched from the same Wisconsin soil. To poets, naturalists, and all who care about the greater earth and its occupants, I recommend A Whooping Crane Diary with all my heart.
— Robert Michael Pyle, author of Wintergreen, The Thunder Tree, Chasing Monarchs
About Jeff Ross
Jeff Ross was raised in Madison, Wisconsin, and educated at Santa Barbara City College and the University of California, Davis. Currently he is an MFA student in Creative Writing at The University of Montana.
Contact Jeff Ross: jeff.ross@umontana.edu